Basking Shark - sleeps 2
Holiday cottage in Cornwall that sleeps 2 people in 1 bedroom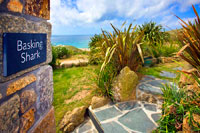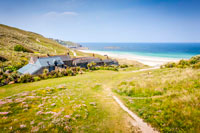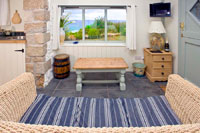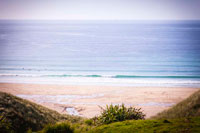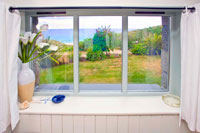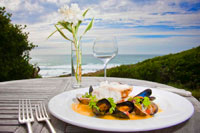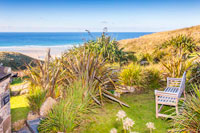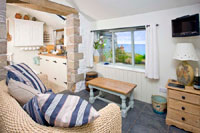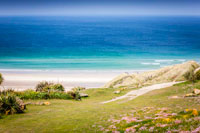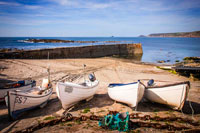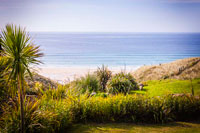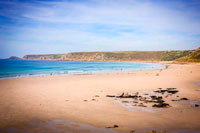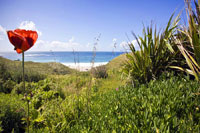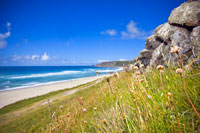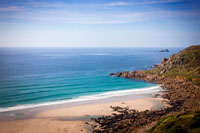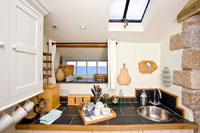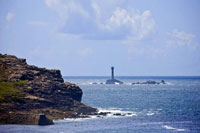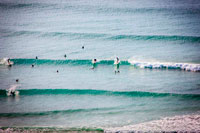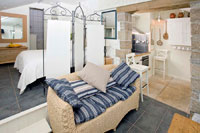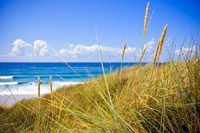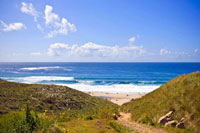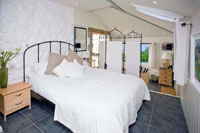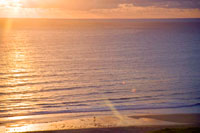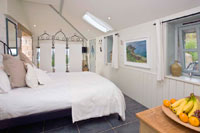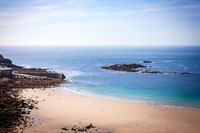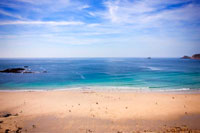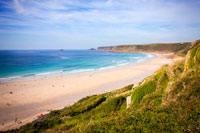 Check availability
& book now
"A little piece of heaven . . ." That's how the local postman has described Vellandreath, a lovely and hidden corner of West Penwith in Far West Cornwall overlooking the wide sweep of Whitesands Bay, Sennen.
Well-appointed in an Area of Outstanding Natural Beauty – a haven for botanists, wildlife enthusiasts, beachcombers, climbers, ramblers and watermen – this delightful holiday cottage in Cornwall by the sea is set in the privately owned, unspoilt 8-acre Vellandreath Valley in Sennen, by the beach, bordered by a stream and sand dunes offering spectacular panoramic sea views all year round.
Converted with flair and imagination this quiet and magical setting is only accessible on foot down the sandy beach path from Sunny Corner Lane, Sennen, Cornwall.
This open-plan studio cottage has stunning sea views, exposed granite walls and a slate-style floor with underfloor heating. A perfect place to relax and watch the world go by – and perhaps even a basking shark!
What our guests say...
I really loved the interior - the attention to detail shown in the lovely bed linen and the beautiful oil painting on the wall made this such a comfortable haven. I also loved the bench in the garden which was large and very comfortable with a fabulous view of the sea.
Catherine
An amazing hideaway overlooking the sea - perfect for a relaxing break. Host was excellent and helpful with everything we needed. Recommend to others looking for a quiet break - we were there early July.
Marie and Robert
We had the most idyllic 10 days in the basking shark with our 10 year old Labrador. It really is a little Shangri-La. Coastal path literally on the doorstep and beautiful walk into Sennen where we had the best Sunday Lunch ever...
Sue and Neville Wynn
At the bottom of a little place called Sunny Corner Lane ☀️ there is an enchanting little bolt hole , the Basking Shark right on the south west coast path. It is almost as though time has stood still here but for the crashing of the waves and the distant sound of happy beach goer's… As you walk along the coastal path there is something new around every corner from giant stormy swells to secluded little coves of white sand and turquoise sea…...
Nicola
We had an amazing time in such a lovely place and will definitely book another break away at the basking shark, but next time we will stay longer.
Ben Compton
1 week since departing the beautiful Sennen Cove Cornwall. Our stay in Basking Shark was perfect for the two of us, the cute little cottage is cosy and snug and has everything you may need. Most nights we ate in as the views and plot where we stayed are so beautiful we did not feel the need to venture out too much...
Collette
WHAT.A.SPOT. We had a really relaxing holiday and the views (even from inside the cottage) were amazing.
Johannes Corrigan
I thoroughly enjoyed my stay at Basking Cottage. The situation is pretty perfect with incredible views across the beach and seas. Greeting me was Paul, who couldnt have been more helpful. The studio is well equipped with a small kitchen, bed and bathroom which suited my stay as one person...
ceri
We highly recommend this place, the location is perfect, right on the beach, the flat is super cute and well equipped, nice private garden with sea view . The staff is really nice and friendly. Easy to access and 15mn from the city for shopping.
Aymeric
We had a lovely time. Sonya , our little yorkie enjoyed her stay too. Everything was as good as we had expected.
Geof & Lilya
Great stay at Basking Shark. Wonderful views. Perfect location for coastal walks and exploring local villages. St Just, Mouseole, St Ives all worth a visit. Small but ideal cottage with all you need. Brian a great help with anything you need.
Nigel Thomas
Absolutely gorgeous place to kick your shoes off and relax. We were here for weekend after a busy Christmas. We felt like the world stopped and we had time for each other again, breakfast with those views was amazing ❤️
Sarah
Very good a beautiful spot.
Howell
An excellent location if you are fit enough for a scenic walk. Nicely decorated and the kitchen and bathrooms all work well. A great value holiday.
Alan Hillman
Lovely week great accommodation just the perfect wind down in a fantastic position !
Guy Thomas
A unique location above a stunning beach which is ideal for families with children, surfers, sun worshipers.....yes there was sun! The cottage is small but has everything you need and the view from the large picture window is amazing...
Hilary and Norman Sheppard
Fantastic holiday at Basking Shark...
Rowena
weather shone on us, up early to get to the beach before restricted times with the dog, we all enjoyed the surf, numerous walks along coastal paths and through the dunes to Sennen for supper - can recommend the Old Success good atmosphere and food...
Sarah & Vaughan
Fantastic. Beautiful cottage, fab views and looked after so well by the lovely Brian and his lovely pup Sid.
Linda, Kevin and Tillly
Had a wonderful week at Basking Shark with my husband and our little dog Booker. The cottage was in a beautiful location and the views from the lounge and kitchen windows was exceptional. The cottage itself was cosy and was equipped with everything you needed for your holiday...
Sue Jackson
Such an amazing week; weather was unseasonably glorious, and the location was breathtaking. Afraid i didn't join the brave souls in swimsuits (in October!) actually taking a dip, but the coast and sunshine and stunning accomodation was utterly restorative...
Kirstin
I had a wonderful stay at this lovely bijou cottage looking onto the sea and sands at Sennen. Beautifully furnished and designed inside with a lovely garden. The team picking up and taking luggage back couldn't have been nicer...
Denise Stephenson
Fabulous just the place for a quiet escape, small but perfect, ideal for the two of us to switch off from the world and relax.
The Fagans
Great cottage with a very nice view over the sea. The cottage had enough room for two persons and has everything you need for a relaxing vacation. From the cottage it's easy to access the Coastal footpath to Sennen Cove/Land's End or St Just...
Robin
Another wonderful stay in Vellandreath (our 15th!); stunning location, lovely cosy cottage. Can't wait to return in April!
Karen
Send to a friend
Property details
Stable door to a cosy living space with stunning sea views, exposed granite walls and a slate-style floor with underfloor heating throughout for a warm and cosy stay whatever the weather.
Onto a fitted kitchen area looking out to sea.
Step to double bedroom.
All simply but attractively furnished.
Bathroom with shower attachment and toilet.
150 metres from the beach
An Area of Outstanding Natural Beauty, Vellandreath has No Vehicular Access = No cars = No Traffic = Peace & Quiet.
Basking Shark is only accessible by foot down the sandy beach path from our private car park off Sunny Corner Lane, a distance of 250 metres. We advise that this property is not suitable for the infirm or those with restricted mobility. Due to the uneven ground of the sand dunes it is advisable to wear sensible shoes. If you are arriving after dark please take a torch. A luggage service is available at check-in and departure times.
Sleeps up to 2 people
Bed linen and towels included
Underfloor Heating (cost included)
Electric Night Storage Heaters (cost included)
Wi-fi internet access
Freesat TV
DVD
Microwave
Washer/dryer
Pretty hillside garden overlooking the sea
Garden with patio complete with garden furniture and BBQ
Private car park 250 metres
Luggage can be transported up and down the valley by tractor – small charge payable to driver
Wet suit and surf board for hire locally
Unsuitable for the infirm or those with restricted mobility
No children except babes in arms
Friday to Friday Changeover
Dogs are permitted on the sand dunes, neighbouring Gwenver beach, and Whitesand's Bay (restricted access during the day in summer at Whitesands Bay)