Little Petra - sleeps 2
Holiday cottage in Cornwall that sleeps 2 people in 1 bedroom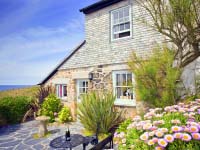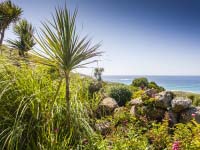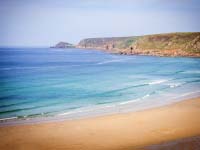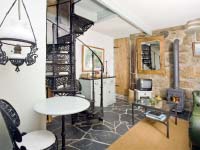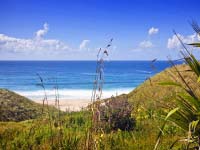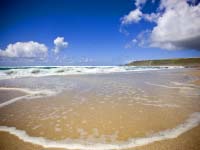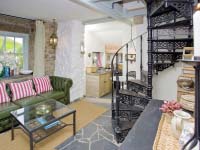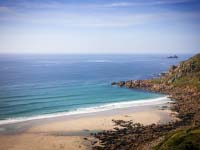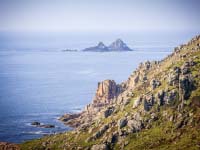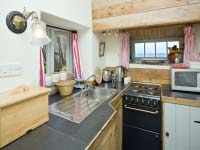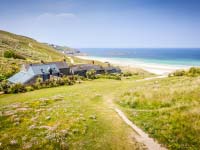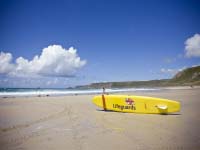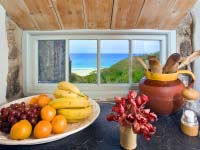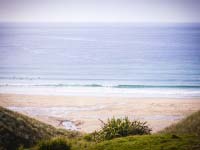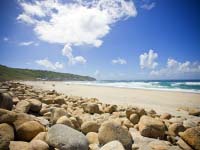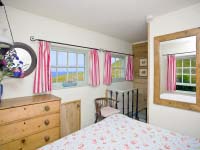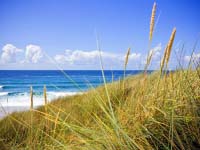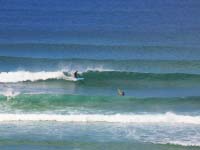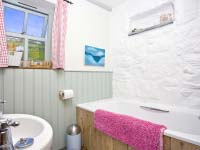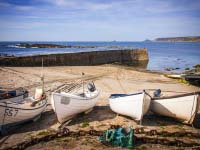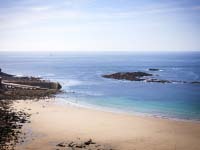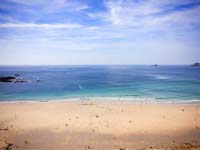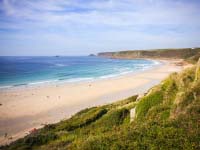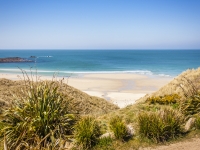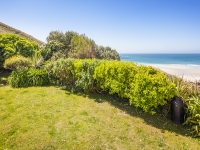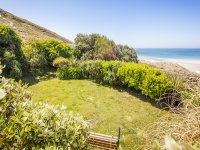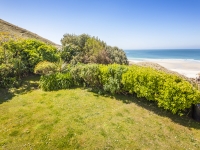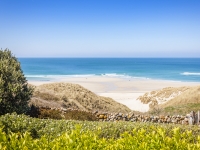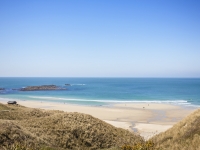 Check availability
& book now
"A little piece of heaven . . ." That's how the local postman has described Vellandreath, a lovely and hidden corner of West Penwith in Far West Cornwall overlooking the wide sweep of Whitesands Bay, Sennen.
Well-appointed in an Area of Outstanding Natural Beauty – a haven for botanists, wildlife enthusiasts, beachcombers, climbers, ramblers and watermen – this delightful holiday cottage in Cornwall by the sea is set in the privately owned, unspoilt 8-acre Vellandreath Valley in Sennen, by the beach, bordered by a stream and sand dunes offering spectacular panoramic sea views all year round.
Converted with flair and imagination this quiet and magical setting is only accessible on foot down the sandy beach path from Sunny Corner Lane, Sennen, Cornwall.
Little Petra has its own private, south-facing walled garden, bordered by a stream. This attractively furnished cottage just 150 metres from the beach commands superb views over Whitesand Bay from both its bedroom and living area.
What our guests say...
What an amazing place. Great weather,comfortable accommodation beautiful views. We will be back.
Jonathan Harris
Lovely cottage in an ideal location.
Andy
We thoroughly enjoyed our stay. The location is fantastic in terms of proximity to the beach, Sennen Cove and the coast path while not being too close to the road [great if you have a dog]. We would definitely recommend these cottages !
Brian & Nikki Smith
Vellandreath is amazing, great location, great views and lovely and quite. Will definitely be back again!
Joe
This break was a go fund me from our lovely friends , We had the best weekend , little Petra was perfect for us, The views are amazing and out of season was perfect for us as our pooch was free to run on the beach...
Nikki
We had a wonderful stay in a lovely cosy cottage. Our small dog was overjoyed to be so close to the sea and loved chilling out by the fire at the end of the day
Amanda
Stunning location and beautiful gardens - great to be sitting on top of the coast path and 2 minutes from the beach
Moira Hopes
Cosy cottage with fantastic views from all windows in a heavenly location. Hoping to return.
Clare Colmore
The setting of the cottages is absolutely wonderful. Little Petra is a charming cottage and well equipped....
An & Jonas
2nd stay at Vellandreath cottages and will hopefully return many more times! Pretty much unbeatable location and very peaceful. Have stayed in different properties each time both have different strengths...
Ian
Beautiful little cottage in a beautiful location which was a perfect place to celebrate our 10th wedding anniversary. Was so peaceful just listening to the sea. Walk to the pub was only 5 minutes across the dunes...
Paul Stead
This was our fourth time staying in one of the cottages. Absolutely love it there! Beautiful little cottage, amazing views and so peaceful. See you again soon for sure
Ben Hadlow
Wow!...Fabulous location with views we never could have imagined. Our dog enjoyed all the lovely walks with us too. Finished off with our lovely cosy cottage. We will defiantly be back. Many thanks.
Mrs J
We had an epic stay in Little Petra. Its a perfect spot to get out and explore the beautiful coastline. I hope that next time the surf will be good!
Jamie Johnstone
Perfect holiday, lovely cosy cottage, beautiful location, even Storm Brian didn't ruin our break, we found it exciting watching the huge waves from the safety of our cottage. This was our second stay and we will definitely be back again.
Gill Simmonds
So I think that despite the weather this is a lovely spot .The beach is very close , you can hear the sea and the walks are fabulous . The garden is very pretty and fairly secluded .
Sarah j
Gorgeous location, cosy little cottage, sea view from bedroom made it. Even in March the beach is perfect.
yvette
We had a really lovely week at Little Petra in October. The cottage was beautiful, well equipped with everything you may need! The situation was perfect for us! It was stunning scenery, the little terrace and garden was well maintained and very pretty! It was just what we needed for a bit of rest and recuperation...
Beverley Blake
We had two great weeks in this amazing house. It has extensive furnishing and fittings. We missed nothing. We enjoyed a great sea view. Special thanks to Brian and Peter for you help and advices. We would like to come back again for another holiday :)
Susanne & Helga
We spent a few nights in Little Petra for our honeymoon. The cottage is stunning. The lovely and thoughtful layout are perfect and so cute, and the garden is glorious to enjoy a glass of wine in whilst everyone else stomps past you up the cliff-path - but what really made it for us was the location...
Hannah and Simon
A lovely cottage cozy and warm, in idyllic surroundings. A 20 minute walk to 2 pubs and a restaurant all selling good food. Clean beach, beautiful coastal path walk, a perfect escape, recommended.
pete and louise
Spent my 60th Birthday with my Family and dogs in Petra and Little Petra. We had a great Time in both cottages. They were everything we expected, clean well maintained and what a wonderful position. Many thanks to all involved in making our stay so memorable Ray and all the family
Ray Spurr
Stunning setting and beautifully furnished. Can't be many places in Cornwall where you see the early morning surfers from your bedroom window. A short magical walk from the cottage through the dunes takes you to some great restaurants and the pub at Sennen Cove.
Tony Quinn
A lovely stay as always in Vellendreath. Mixed weather just adds to the whole experience! Brian and Peter as helpful as always. Returned home feeling rested, healthier and looking forward to returning next year.
Jo
Fabulous location. Dog friendly beach nearby. Location of cottage perfect base for coastal walks.Perfect too for relaxing at the cottage. We rarely used the car Sennen Cove is beautiful
Susan
Send to a friend
Property details
Open-plan living/dining room with 'Victorian' wood-burning stove, slate floor with rug and cosy cottage-style kitchen area with sea views.

Victorian cast-iron spiral staircase to pretty double bedroom with ornate antique iron bed and sea views.

Bathroom with shower attachment, toilet and stripped pine floor.

An Area of Outstanding Natural Beauty, Vellandreath has No Vehicular Access = No cars = No Traffic = Peace & Quiet.
Little Petra is only accessible by foot down the sandy beach path from our private car park off Sunny Corner Lane, a distance of 250 metres. We advise that this property is not suitable for the infirm or those with restricted mobility. Due to the uneven ground of the sand dunes it is advisable to wear sensible shoes. If you are arriving after dark please take a torch. A luggage service is available at check-in and departure times.
Sleeps up to 2 people
Bed linen and towels included
Wood-burning stove – initial fuel included (additional fuel supplied and delivered at cost)
Electric Night Storage Heaters (cost included)
Wi-fi internet access
Freesat TV
DVD
Microwave
Washer/dryer
Garden with patio and furniture
BBQ
Private car park 250 metres
Luggage can be transported up and down the valley by tractor – small charge payable to driver
Wet suit and surf board for hire locally
Unsuitable for the infirm and those with restricted mobility
No children except babes in arms
Friday to Friday Changeover
Dogs are permitted on the sand dunes, neighbouring Gwenver beach, and Whitesand's Bay (restricted access during the day in summer at Whitesands Bay)