Whitebreakers - sleeps 6
Holiday cottage in Cornwall that sleeps 6 people over 3 bedrooms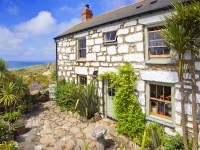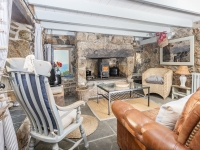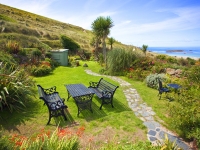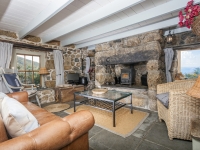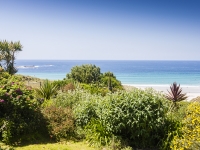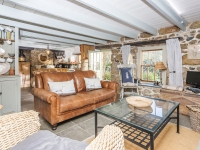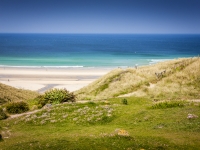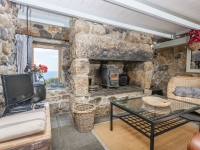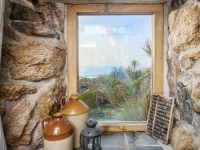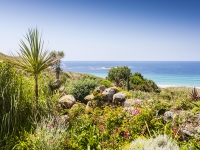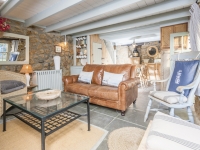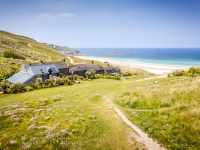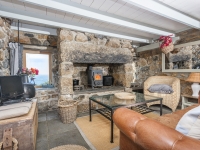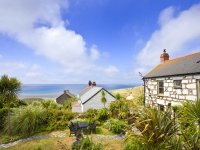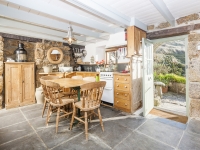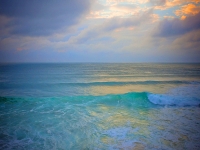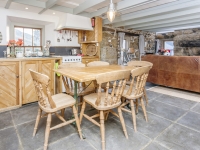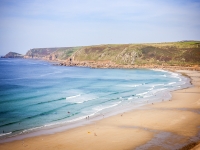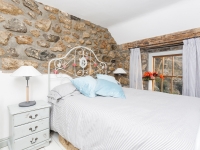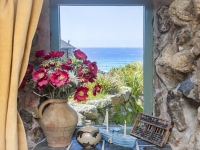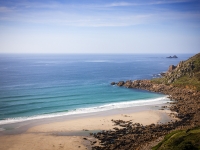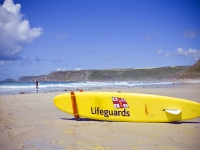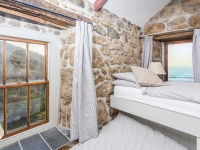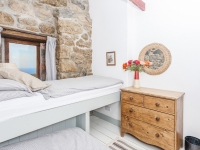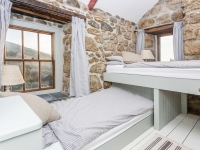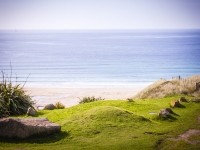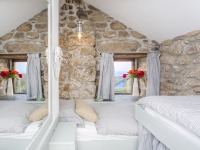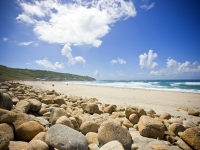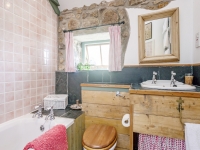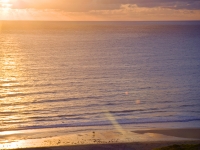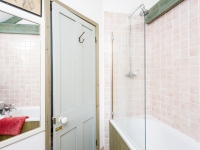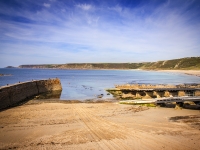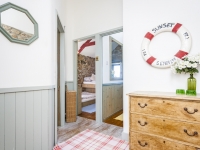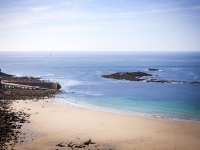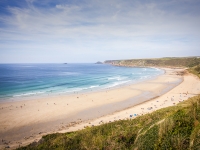 Check availability
& book now
"A little piece of heaven . . ." That's how the local postman has described Vellandreath, a lovely and hidden corner of West Penwith in Far West Cornwall overlooking the wide sweep of Whitesands Bay, Sennen.
Well-appointed in an Area of Outstanding Natural Beauty – a haven for botanists, wildlife enthusiasts, beachcombers, climbers, ramblers and watermen – this delightful holiday cottage in Cornwall by the sea is set in the privately owned, unspoilt 8-acre Vellandreath Valley in Sennen, by the beach, bordered by a stream and sand dunes offering spectacular panoramic sea views all year round.
Converted with flair and imagination this quiet and magical setting is only accessible on foot down the sandy beach path from Sunny Corner Lane, Sennen, Cornwall.
This cosy cornish cottage is perfect for families and boasts an enclosed south-facing garden with wonderful sea views. Inside every room has a sea view in this whitewashed, south-facing fisherman's cottage, which nestles in the dunes amongst palm trees with the beach just 200 metres away…
What our guests say...
Gorgeous cottage in absolutely stunning location. Second visit to Vellandreath cottages and I certainly hope to return again soon!
Katie
We had a lovely stay at Whitebreakers and the views are amazing...
Lucy
Lovely week in Whitebreakers.Spent most of the time in beautiful garden with lovely views and watched the lovely sunsets over the sea. The cottage was comfortable and had everything we needed.
Andrew Paton
Simply amazing. Can't wait to come back :)
Dom From
This was a special week in a special place. Sennen Beach is fantastic and dramatic, and the cottage cosy and beautifully done up. Our young (and loud) kids absolutely loved it, and we soon stopped worrying about their nuisance value to neighbours as the property is so well insulated...
Adrian
Great location, great house. A big thanks to Brian, what a completely relaxed and yet attentive chap. We look forwards to returning someday.
Steven Sale
Whitebreakers was just perfect for us. Lovely garden with sea view and sea views from most of the windows in the cottage. We had 4 lovely days of sunshine in October. Brian was very helpful as usual and his dog Sidney was very lovely !
Sue
As perfect as ever. Wonderful place, truly magical - and while it poured in the rest of the UK the sun shone.
Tim Halford
Wonderful cottage, full of nooks and crannies, cosy and perfect for shutting out the world for a few days. February is the best time for solitary walks along the coast. We will come again next year.
Eric van Rekum
We had a fantastic few days celebrating our 25th wedding anniversary. White breakers was gorgeous and cosy just what we wanted, the views are amazing. We will definitely return
Paul & Fi
What a charming cottage in a dreamlike environment. A little piece of heaven is not exaggerated. We have spent wonderful days in Cornwall and would love to come back. The helpful and friendly people of the vellendreath co...
Marianne Sprecher
Pure escapism! A charming cottage equipped with everything we could need for a wonderful Spring holiday. The views are breathtaking. Labrador, kids & parents smiling ear to ear as we leg it down to the beach each day...
Julie & Jean van Vuuren
Beautiful location, cottage well equipt and very clean. Peace and tranquility meant great place to switch off and get away from it all. Beautiful beach and coastal walks from the door. Great surfing! Definitely be booking again.
Jo Culley
We had a fantastic holiday in the lovely Whitebreakers cottage. The weather was very wet and windy but the cottage was always warm and the log burner made it even more cozy. Brian was incredibley helpful from our first call to tell him our expected arrival until we left...
Clare Sedgwick
We had the most wonderful week in Whitebreakers......the cottage was cosy and well equipped ....we had roaring log fires by night and were lucky enough to probably have the best week of unbroken sunshine all year...
Geraldine Benson
Always a joy & back again next year
Ian Richards
Our second visit to Whitebreakers, and even better than last year, what fantastic weather we had! The garden looked beautiful, with its stunning view of the ocean, our favourite place to have breakfast, and bbqs after a hard day playing on the beach...
Tania Gane
Our second stay and as amazing as before. Cannot fault the location always amazing to see sennen from your bedroom window. The cottage is very comfortable and well looked after. Thank you.
Sarah
Send to a friend
Property details
Attractive, open-plan living room overlooking a pretty south-facing walled garden, bordered by a stream. This room has exposed beams and large granite inglenook with 'Victorian' wood-burning stove.
Kitchen/dining area.

Open-plan stairs to first floor:

Three pretty bedrooms; one double room with ornate antique iron bed; two further cosy bedrooms, each with single bed and built-in bed.

Bathroom with over-bath shower and toilet.

All rooms have rugs on pine floors.

An Area of Outstanding Natural Beauty, Vellandreath has No Vehicular Access = No cars = No Traffic = Peace & Quiet.
Whitebreakers is only accessible by foot down the sandy beach path from our private car park off Sunny Corner Lane, a distance of 250 metres. We advise that this property is not suitable for the infirm or those with restricted mobility. Due to the uneven ground of the sand dunes it is advisable to wear sensible shoes. If you are arriving after dark please take a torch. A luggage service is available at check-in and departure times.
Sleeps up to 6 people
Great for kids
Bed linen and towels included
Travel cot and high chair by arrangement
Wood-burning stove – initial fuel included (additional fuel supplied and delivered at cost)
Electric Night Storage Heaters (cost included)
Wi-Fi internet access
Freesat TV
DVD
Microwave
Washer/dryer
Dishwasher
Garden with patio and furniture
BBQ
Private car park 150–200 metres
Luggage can be transported up and down the valley by tractor – small charge payable to driver
Wet suit and surf board for hire locally
Pets are welcome but notice must be given in advance (a small charge / deposit may be required for more than one pet)
Unsuitable for the infirm and those with restricted mobility
Saturday to Saturday Changeover
Dogs are permitted on the sand dunes, neighbouring Gwenver beach, and Whitesand's Bay (restricted access during the day in summer at Whitesands Bay).