Castaways - sleeps 4
Holiday cottage in Cornwall that sleeps 4 people over 2 bedrooms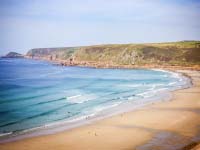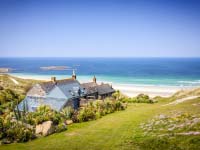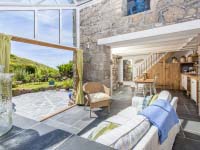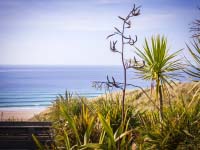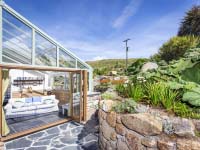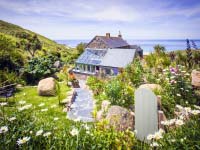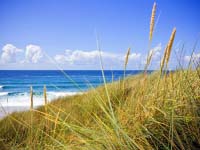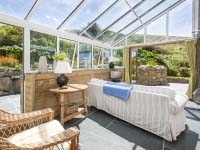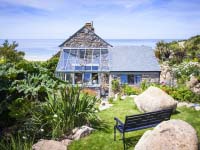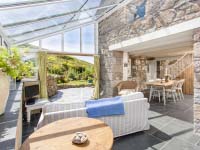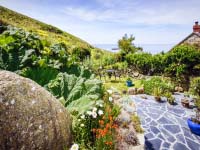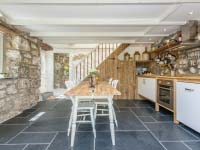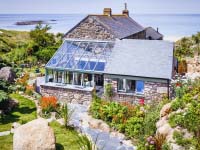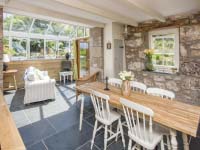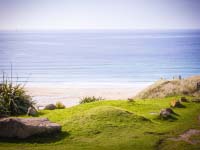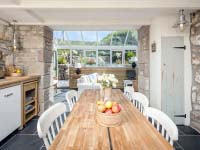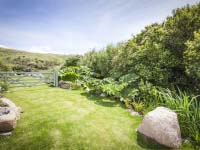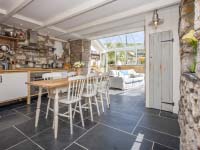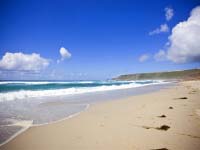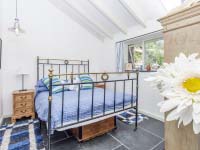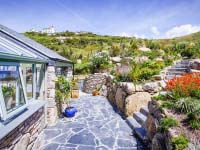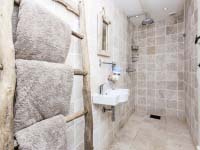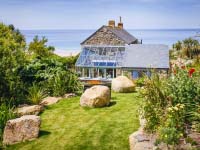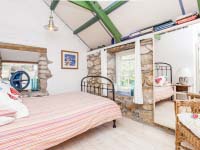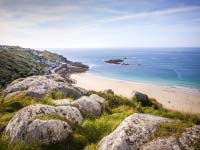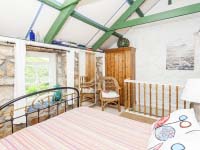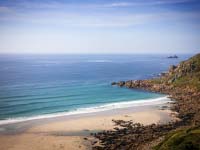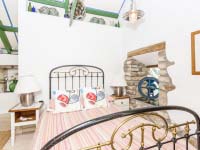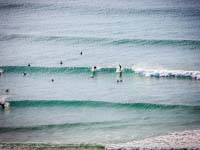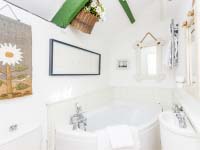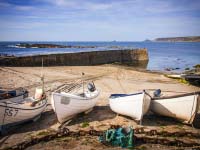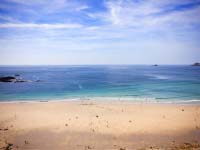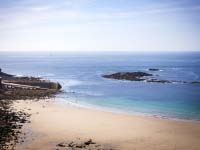 Check availability
& book now
"A little piece of heaven . . ." That's how the local postman has described Vellandreath, a lovely and hidden corner of West Penwith in Far West Cornwall overlooking the wide sweep of Whitesands Bay, Sennen.
Well-appointed in an Area of Outstanding Natural Beauty – a haven for botanists, wildlife enthusiasts, beachcombers, climbers, ramblers and watermen – this delightful holiday cottage in Cornwall by the sea is set in the privately owned, unspoilt 8-acre Vellandreath Valley in Sennen, by the beach, bordered by a stream and sand dunes offering spectacular panoramic sea views all year round.
Converted with flair and imagination this quiet and magical setting is only accessible on foot down the sandy beach path from Sunny Corner Lane, Sennen, Cornwall.
Castaways is a south facing former net loft and is snugly set in the dunes, only 250 metres from the beach with its own sun-trapped garden, bordered by a stream, enjoying spectacular views over Whitesands Bay, Sennen and Sennen Cove, with distant glimpses of the Isles of Scilly.
What our guests say...
Lovely well equipped and warm cottage. Very quiet despite all cottages being full. Easy walk to the beach and village but far enough away to avoid the crowds. Sun room was lovely in summer rain! Hope to return.
The Henderson Family
Our second time in this beautiful, tranquil location nestled in to the dunes. We had a really lovely week, enjoying Castaways' lush, coastal garden and characterful interior.
Jonathan brown
I so love my stays at Vallandreath. Have been staying in various of the houses over the last 20 years and will continue to do so . At the first sight its like breathing in relaxation and rest from tne maddness of the world , Castaways was glorious ...
Emma Harries
Thank you for a wonderful week at Castaways, It was just perfect.
S Fraser
Our second stay at Vellandreath and would recommend the peacefulness and privacy of this cottage. Clean and bright, the cottage is a great for a relaxing break away. We enjoyed our morning and late evening walks on the beach and managed a walk over to Lands End one afternoon...
Sue
Great location within easy reach of the beach and coast path. The well equipped cottage conversion was kept in good condition and had a lovely garden with seaview. Helpful and friendly hosts.
Peter Fuller
We found a treasure! We were delighted with all aspects of Castaways. Beautiful cottage, beautiful location. A fabulous place to spend Christmas. Everybody was very helpful and all our needs were met. We will definitely be returning.
Karen Grundon-Orrin
We loved Castaways! What a perfect cottage in a glorious location. The cottage is well equipped and atmospheric with a lovely garden. We're walkers and with the coastal path at our doorstep, we could walk as far as we liked with the most spectacular scenery...
David Sykes
We had a weeks stay in Castaways which we found fantastic. The cottage was tremendous and the staff extremely helpful. We will certainly be visiting again. Many thanks to all at Vellandreath Cornish Cottages.
Lynne Clayton
We enjoyed a splendid week at Castaways, although one of the few Vellandreath properties without a sea view from the living area the fantastic garden with amazing views of the bay more than makes up for it...
Karen Charles
Another fantastic stay in Castaways. We especially enjoy sitting in the garden, listening to nearby babbling brook, watching the sun disappear over the horizon and star gazing at night. Oh yes, of course, walking above the sea and beach as well...
Tony, Hilary, Tom and Lisa
Castaways was a lovely cottage. We spent a week in Cornwall and loved the scenery and peaceful stay. It was rejuvenating and we had no issues with the cottage. The secluded area reminds me of the east coast of South Africa.
A Petersen
We had an absolutely marvellous time on this holiday, our dog was beside himself with the amazing walks he had on the deep sandy beach & in the sand dunes. We went out of season in November, as you can take your furry pals on the beaches then...
Georga
A wonderful week. The cottage was delightful and the location is second to none. We're coming back.
Mellie Buse
Castaways exceeded all expectations, with it's peaceful setting and stunning coastal views. The well equipped cottage offers a great layout with comfort, warmth and oodles of character! Three adults and two dogs arrived feeling tired but left feeling relaxed and refreshed...
Susie
A delightful cottage in a stunning location with everything you could need for a relaxing break. Brian was helpful and charming...
G Farmiloe
We stayed in Castaways on the first week in April. We were met by Brian the caretaker on our arrival who was very helpful. The cottage was very clean and comfortable, the garden was amazing, planted up beautifully...
Kate
Great holiday cottage. very clean and amazing location will definitely come again. Anyone with dogs that love to run and explore won't find a better place than this.
Trevor
Our second visit after we loved the cottage and the area so much in spring this year. The weather was excellent - really warm for October. A few very helpful surfing lessons from the Sennen Cove crew. Our dog was ecstatic to be back...
Maria
stunning cottage in a stunning location. Cottage was beautifully decorated and furnishings were of a high standard.
Pippa Hawes
As ever, a wonderful stay and plenty of sunshine to boot! Everyone involved with the cottages so friendly and helpful. Looking forward to returning soon. Thank you.
Andy, Gill, Pat, Jerrer, Alf & Mills
Castaways was even prettier and more beautifully turned out in real life than in its photographs. The conservatory captures the sun and opens out to create plenty of space. The facilities were excellent...
Maria
This must be our 14th stay to Vellandreath - there's a reason we keep coming back!! Castaways is by far our favourite cottage - the gardens with the stream running through are simply stunning. Only problem is, it gets booked up so far in advance! Brian the caretaker is helpful and friendly yet allows you the privacy to have a wonderful relaxing holiday...
Mr and Mrs K
Wonderful
Natasha Scott
Wonderful , thank you.
Rainer u. Mela with kids from germany
Send to a friend
Property details
Completed to a very high specification with a feature high ceiling conservatory, this exceptionally light and comfortable property is set in the heart of Vellandreath Valley and is surrounded by its own beautiful sheltered terraced garden, bordered by a stream with wonderful sea views.
Slate steps wind down to the front door through terraced gardens with pretty flowers and lawned borders offering seats to soak up the ambience of Vellandreath Valley and the Atlantic Ocean.
Castaways' open plan living area and bespoke conservatory brings the "outside – inside" assuring a unique stay.
Castaways' exposed beams, high ceilings and granite walls grant it immense character and charm.
Castaways has underfloor heating throughout the ground floor assuring a warm and cosy stay whatever the weather.
Open Castaways' tri-fold glazed patio doors off its high ceilinged conservatory and the inside living area magically merges with the garden resulting in an excellent design feature.
Castaways has a spacious open plan living / dining room with a freestanding beech kitchen area complete with "touch sensitive" hob, convection oven, micro-wave and belfast sink.
The pretty double bedroom with antique brass and iron double bed has rugs on slate floors and an ornate antique wardrobe. Leading from this high ceilinged sleeping space is the en-suite tiled wet room with a power shower, basin and lavatory.
From the open plan living area stripped pine stairs lead to the first floor with complimentary night storage heating throughout assuring a warm and cosy stay whatever the weather.
Further family bathroom and sleeping area with a double bed, high beamed ceilings, original sash window giving way to sea views with another feature window overlooking the garden and stream.
Granite walls compliment lime-waxed floorboards surrounded by attractive furnishings in this rustic but contemporary fisherman's cottage setting.
An Area of Outstanding Natural Beauty, Vellandreath has No Vehicular Access = No cars = No Traffic = Peace & Quiet.
Castaways is only accessible by foot down the sandy beach path from our private car park off Sunny Corner Lane, a distance of 250 metres. We advise that this property is not suitable for the infirm or those with restricted mobility. Due to the uneven ground of the sand dunes it is advisable to wear sensible shoes. If you are arriving after dark please take a torch. A luggage service is available at check-in and departure times.
Sleeps 4 people
Great for kids
Only 250 metres from the Beach of Whitesands Bay, Sennen – with Superb views
Situated in a privately owned 8 acre valley designated as an "Area of outstanding natural beauty"
Terrace with Barbeque and views
Enclosed garden with garden furniture
With prior arrangement an additional child under 2 years old is welcome with no extra charge.
High chair & Travel Cot available upon request – please bring your own cot linen etc.
Bed linen and towels included
Underfloor heating on the ground floor assuring a warm & cosy stay whatever the weather (cost included)
Night Storage Heaters on the first floor assuring a warm & cosy stay whatever the weather (cost included)
En-suite Wet Room with shower
Family bathroom
Electricity included
Freesat TV & DVD
Internet access / WiFi available
Books & games
Oven, Hob, Microwave, Fridge / Freezer, Dishwasher, Washing-machine/dryer, toaster, kettle, etc
Private car park 200 metres away
Luggage can be transported up and down the valley by tractor – small charge payable to driver
Our Caretaker will be available to greet you during designated arrival times
Wet suit and surf board for hire locally
Pets are welcome (max. 2) but notice must be given in advance (a small charge may be required)
Unsuitable for the infirm or those with restricted mobility
Saturday to Saturday Changeover
Short breaks are based on Saturday – Tuesday changeovers (3 nights) and Tuesday – Saturday changeovers (4 nights) unless otherwise arranged
Dogs are permitted on the sand dunes, neighbouring Gwenver beach, and Whitesand's Bay (restricted access during the day in summer at Whitesands Bay)