Girl Annie - sleeps 4
Holiday cottage in Cornwall that sleeps 4 people over 2 bedrooms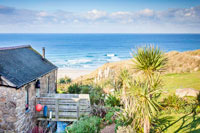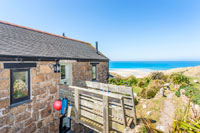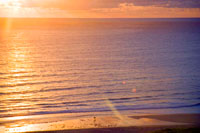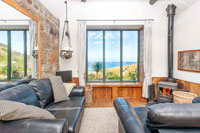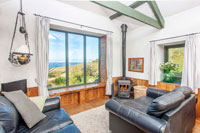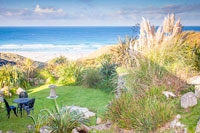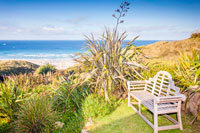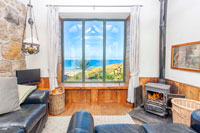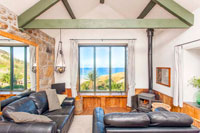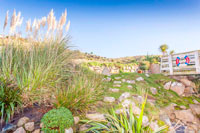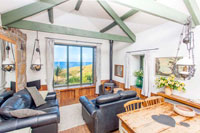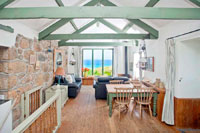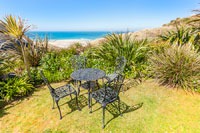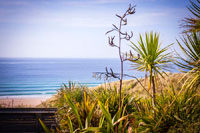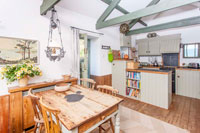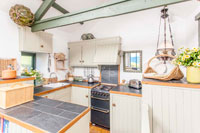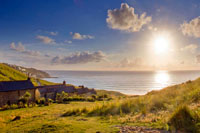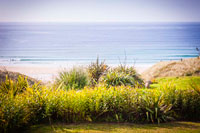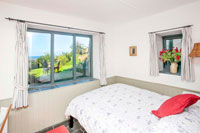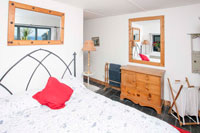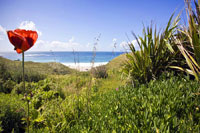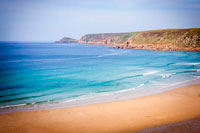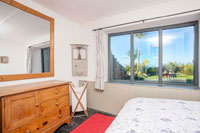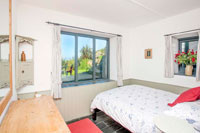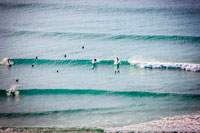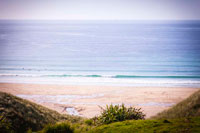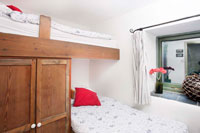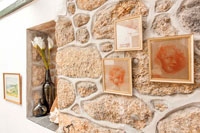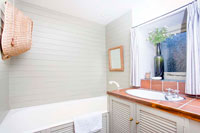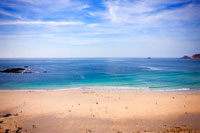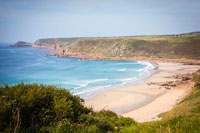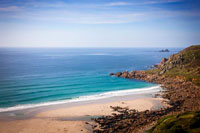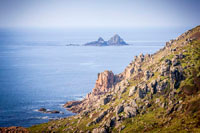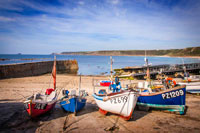 Check availability
& book now
"A little piece of heaven . . ." That's how the local postman has described Vellandreath, a lovely and hidden corner of West Penwith in Far West Cornwall overlooking the wide sweep of Whitesands Bay, Sennen.
Well-appointed in an Area of Outstanding Natural Beauty – a haven for botanists, wildlife enthusiasts, beachcombers, climbers, ramblers and watermen – this delightful holiday cottage in Cornwall by the sea is set in the privately owned, unspoilt 8-acre Vellandreath Valley in Sennen, by the beach, bordered by a stream and sand dunes offering spectacular panoramic sea views all year round.
Converted with flair and imagination this quiet and magical setting is only accessible on foot down the sandy beach path from Sunny Corner Lane, Sennen, Cornwall.
Girl Annie is a romantic, cosy cornish cottage and is perfect for families boasting spectacular sea views. This reverse level, former net loft bursts with character, and its setting in the dunes just 200 meters from the beach makes for glorious sea views & spectacular sunsets from its living room, dining room and pretty cottage garden.
What our guests say...
We LOVED our stay in Girl Annie. The cottage was even lovelier than it looked on the website, perfectly designed to optimise space with a cosy country feeling. The sea view was spectacular from the living room and bedroom and the spacious garden...
Rachel
A beautiful cottage with stunning views in a great location right by the beach. What more could you want?!
Carl
Thank you for a lovely week in a cottage close to the beach. The cottage was most enjoyable and the beach and the sea was an absolute delight. Thank you to your two helpers who made sure all our luggage was collected and deposited at the agreed time of arrival and departure with no problems Thank you for a lovely holiday
Gordon Kruse
Best ever holiday. Lucky with the weathwr. Garden, seats, and mini bbq used. Great outlook. Dog friendly accomm. Baggage transfer very much appreciated… Handy for the beach. Lovely sunsets.
T Harte and L Richardson
We had a fantastic week here. The view from the cottage window was amazing, I so enjoyed watching the sun set over the sea. The cottage is so well equipped and the little garden was perfect...
Catt
Loved our week at girl Annie. What a gorgeous cottage with amazing views. All staff were so helpful and communication excellent. This is a big help particularly in these challenging times. Have already booked for next year!!
Chris Wood
Loved staying at Girl Annie- the view from the windows was spectacular to watch the storms coming in- really windy for our week but the cottage was so cosy with the wood burner going- a truely wonderful experience !!
Gilly Green
We love Girl Annie for the views, walking from the door and the cosy interior.
Nicola
Girl Annie...a beautiful haven to watch stormy seas and feel completely safe within the thick granite walls! Absolutely loved our stay thank you. The cottage is absolutely stunning and much thought has gone into making sure it has everything needed...
Jo Schulte
2nd.visit as good as the first. A - 1 position for views. Brian on time to receive us at the car park & again on time as pre asked to help us depart. Look forward to next year. Thanks. JLH LMH BRYN MOLLY.
J L HOWELL
Enjoyed it so much we have just booked for next year.
Dan and karen
We love girl Annie. The views are amazing. It has everything you want. Walking out in the evening along the beach after a meal is one of the pleasures in life.
Sara
Wow, what a beautiful cottage with stunning views! We spent a fabulous week in your lovely cottage (weather certainly a bonus!). So relaxing and peaceful. Cottage had everything we needed... We will definitely book Girl Annie again for my 50th birthday next year!
Debbie Chappell
A wonderful place to stay. The cottage is warm and cosy with a wonderful view of the beach. Days while away very quickly; walking on the beach and looking at the waves! Thank you.
Andrew
Had a fabulous few days so nice out of season - lovely log-burning stove for cosy evenings
Coraa
Magical Spot. Website doesn't do it justice. Had a great stay, even with storm Dora!
Lou
We stayed in Girl Annie in late January/early February, the views were stunning and the cottage was cosy...Would thoroughly recommend, children would love the bunk room, pleasant walk to Sennen Cove and the hospitable Old Success Inn...
Debbie Mould
Another fantastic stay at Vellandreath. Girl Annie cottage was perfect. A stunning view towards the sea, a short walk to the beach (our dog loved it!) and wonderful welcome from the staff. The cottage is very well equipped and beautifully decorated...
Gail & Dale
Beautiful setting and view with great walks for the dog. The cottage is cosy and comfortable. Very relaxing. Would love to return...
Conn family (3 adults and a dog)
Girl Annie was a great place to stay and enjoy beautiful Whitesands Bay we loved every moment and hope to return sometime soon.
Sara Carr
Lovely cottage in a beautiful spot. Well equipped in all respects. Luggage transfers worked well, Peter very helpful on timing....fantastic.
Nic Riley
We had a wonderful week staying at Girl Annie. This is a lovely property, I love the upside down living. The location is fantastic and the view amazing. Worth the money.
Julia Frances
Vellandreath is a wonderful idyllic setting. We had a glorious week and did not feel the need to venture further than the beach, the coastal path and the local pub and restaurant. Being able to wake up every morning, looking down on the beach to check out the surf conditions was fantastic alongside enjoying a mug of tea at the end of the day watching the sunset...
Mike Smith
Lovely, functional, comfortable cottage with views! Great access to beach. Great access to other cottages. Lots of storage, lots of hot water from great shower...
Becky
We loved staying in this cottage, the view was stunning and being able to wander down to the beach in the evening straight from the house was idyllic
Kate and Peter
Send to a friend
Property details
Reverse level dwelling maximising its position resulting in fantastic sea views
Entrance across a nautical style bridge to open-plan first floor living room with exposed beams, 'Victorian' wood-burning stove and pine floor with rug.
The large picture window offers fantastic beach and sea-views with glorious sunsets.
Kitchen/dining area.
Open-sided stairs to ground floor: Double bedroom with superb sea views.
Cosy Bunk bed bedroom with single bed and built-in bed, best for children.
Bathroom with shower attachment and toilet.
All ground floor rooms have slate floors with rugs.
200 metres from the beach
An Area of Outstanding Natural Beauty, Vellandreath has No Vehicular Access = No cars = No Traffic = Peace & Quiet.
Girl Annie is only accessible by foot down the sandy beach path from our private car park off Sunny Corner Lane, a distance of 250 metres. We advise that this property is not suitable for the infirm or those with restricted mobility. Due to the uneven ground of the sand dunes it is advisable to wear sensible shoes. If you are arriving after dark please take a torch. A luggage service is available at check-in and departure times.
Sleeps up to 4 people
Great for kids
Bed linen and towels included
Electric Night Storage Heaters (cost included)
Travel cot and high chair by arrangement
Wi-Fi internet access
Freesat TV
DVD
Microwave
Washer/dryer
Garden with patio and furniture
BBQ
Private car park 200 metres
Luggage can be transported up and down the valley by tractor – small charge payable to driver
Wet suit and surf board for hire locally
Wood-burning stove – initial fuel included, extra at cost (delivered)
Dishwasher
Unsuitable for the infirm and those with restricted mobility
Saturday to Saturday Changeover
Dogs are permitted on the sand dunes, neighbouring Gwenver beach, and Whitesand's Bay (restricted access during the day in summer at Whitesands Bay)