Sandpipers - sleeps 2
Holiday cottage in Cornwall that sleeps 2 people in 1 bedroom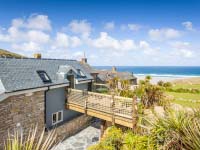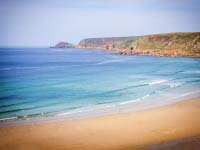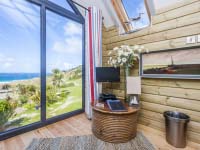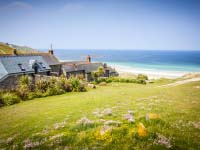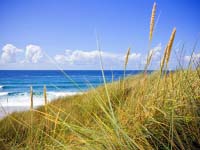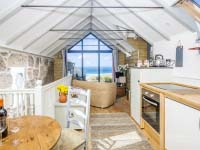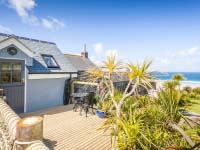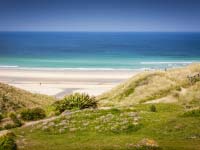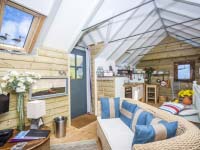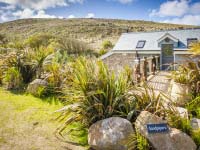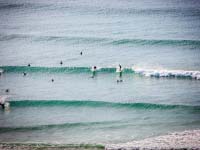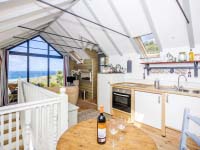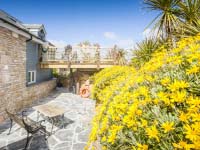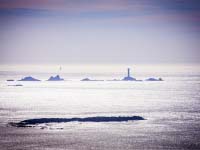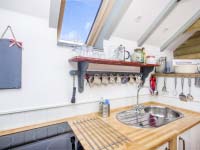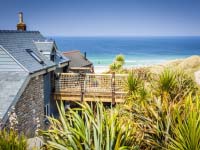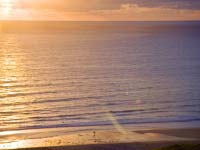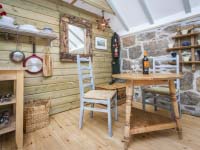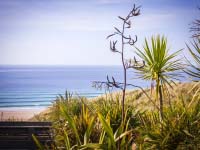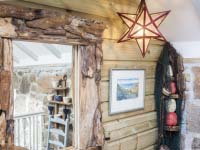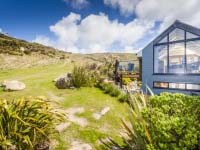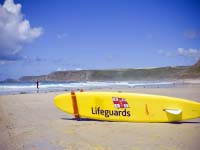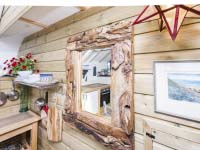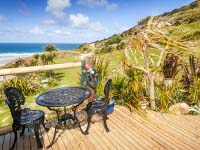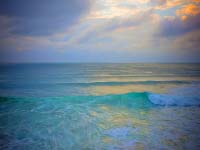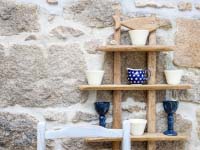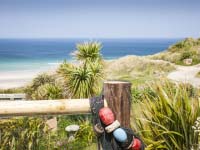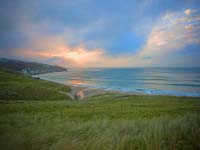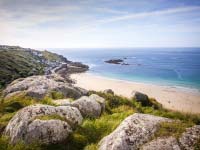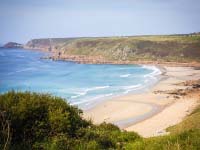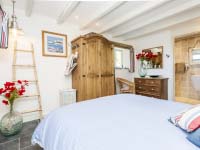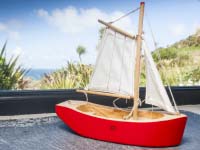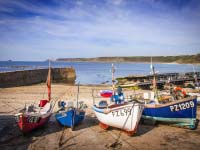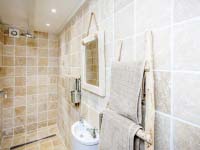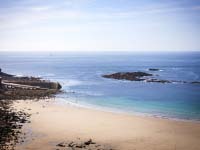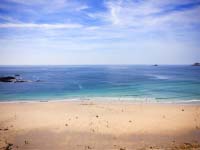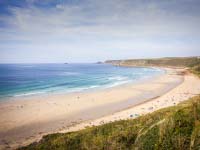 Check availability
& book now
"A little piece of heaven . . ." That's how the local postman has described Vellandreath, a lovely and hidden corner of West Penwith in Far West Cornwall overlooking the wide sweep of Whitesands Bay, Sennen.
Well-appointed in an Area of Outstanding Natural Beauty – a haven for botanists, wildlife enthusiasts, beachcombers, climbers, ramblers and watermen – this delightful holiday cottage in Cornwall by the sea is set in the privately owned, unspoilt 8-acre Vellandreath Valley in Sennen, by the beach, bordered by a stream and sand dunes offering spectacular panoramic sea views all year round.
Converted with flair and imagination this quiet and magical setting is only accessible on foot down the sandy beach path from Sunny Corner Lane, Sennen, Cornwall.
Sandpipers is a reverse level dwelling enjoying its own wooden bridge just 250 meters from the beach with spectacular sea views over Whitesands Bay, Sennen and the Atlantic Ocean.
What our guests say...
We had a wonderful stay at Sandpipers. Beautiful views, and an incredibly sweet cabin that was just the right size for 2 plus our little dog. The directions were really clear, and we had help with taking our luggage to and from the car to the cottage which was super helpful…...
Anna Dudley
The most amazing cottage stay we've ever had. From the gorgeous cottage itself, to its quiet, tranquil surroundings. Sandpipers cottage was perfect for the relaxing, break away we wanted, and our German shepherd loved his first little holiday away with us.
Kerry-Ann
Had the most lovely time staying at Sandpipers with my husband and 2 dogs. The cottages are in the most peaceful valley, a 2 minutes walk from the beach. There was everything we needed and the bed was so confortable...
Karlyn Matheson
The cottage itself is cosy but very well equipped. It was perfect for our stay! The location is just beautiful right in the middle of the valley with the beach below. Sandpipers has a courtyard below and a decked area by the front door - we sat here most evenings watching some beautiful sunsets...
Claire
Who thought a week in February could be so amazing?! Sandpipers had everything we could possibly need despite it being so compact.It was warm and all the lovely guys that work there keep it and the grounds looking really good...
Ruth
Wow what an amazing stay we had! We only had a short Monday to Friday break but it was absolutely perfect! The cottage was perfectly presented and well equipped and was lovely and clean... Would highly recommend and would definitely go back in the future
Liz & Stewart
Thank you…we had the most amazing stay at Sandpipers. Paul gave such a friendly welcome and the cottage was just lovely. You were also so accommodating and helpful in moving my initial booking from March to May due to lockdowns...
Sarah
Fabulous wee cottage Everything supplied excellent. Great assistance when we arrived and Left. Thank you
Verity
I enjoyed my stay so much despite the weather, that I have booked again in September
Pauline HT
As busy as Sennen was during this half term Sandpipers is ideal for a relaxing and away from it all break. Vellandreath's location offers great views and access to the beach below. The accommodation is clean and well maintained...
Dave & Emma
Sandpipers at Vellandreath is the perfect coastal bolthole for 2 we loved it! The unique completely glass gable end has the most wonderful view down the valley to Whitesands bay beach below. This Is wild and beautiful Cornwall at its finest...
Angela Ballard
Absolutely delightful cottage and surroundings excellent customer service from start to finish thank you
Jackie Dean
A beautiful and stunning location. Sandpipers has a view to die for. Compact and bijou, but has everything you need for a couples hideaway weekend. Sennan village is just a 10 min walk up the coastal path with a lovely pub with excellent food...
Dale Baker
Yet another lovely stay in this beautiful valley. Accommodation perfect to come back to after being on a wonderful beach and exploring this unspoilt part of Cornwall. Perfect holiday for both humans and dogs...
Jo and Andrew
Absolute slice of heaven. Second time for me, my young son and the dog. Cottage is perfect; peaceful, equipped with everything we need, perfect views. Couldn't ask for a more idyllic location. Love this place...
KLR
Fantasy stay once again superb attention to detail awesome accommodation and looked after perfectly by Brian the caretaker. A1 wonderful spot and very highly recommend
Guy Thomas
We had a fabulous stay. The whole experience at Vellendreath with no cars, the views and the quality of the cottage was exactly what we were after...
Ben
A welcome break again in lovely Sandpipers, the 3rd time and our 6th visit to Vellandreath cottages. What better than watch the sunset from the huge window...! See you next year.
Eric van Rekum
Comfortable, well-furnished and a truly idyllic setting!
Neil Jones
I loved Sandpipers. Beautifully finished inside and of course a location that's second to none....
Carole
We really enjoyed our stay at Sandpipers. Fabulous location
Steve Abbott
Lovely week of sun (mainly) in Sennen, staying in Sandpipers at Vellandreath. Cottage was fantastic, great view down to the sea. This was our 3rd visit and we plan to be back.
Nic Riley
A great place for rest and relaxation. Exquisite views. Beautiful sunsets. A 1-minute walk from a perfect, white sandy beach. Friendly staff with outstanding luggage service. Property finished to a very high standard...
Mr & Mrs Lowe
Absolutely perfect location for a break. Complete relaxation for us and the dog. Ideally placed for long walks, beach fun and surfing. We loved it and can't wait to return. Thank you!
KLR
Sandpipers was absolutely perfect for us, fabulous view of the sunset and easy access to the beach, loved it, thank you.
Lynn Moor
Send to a friend
Property details
Completed to a high specification with its own first floor balcony and patio, this exceptionally light and comfortable property is set in the heart of Vellandreath valley with wonderful sea views.
Access to this cornish cottage is by a wooden bridge in true nautical style.
The sheltered decked balcony has superb sea-views and is perfect for al fresco dining and sundowners.
The open plan living area has wonderful sea views from the large floor to ceiling picture window – superb for watching the sunset.
There is a compact and well equipped bespoke kitchen and dining area.
Sandpipers' high ceilings with exposed beams, granite walls and lime-waxed wooden floors result in a light and airy feel.
Stairs to the ground floor where there is slate and underfloor heating throughout.
Here can be found the bedroom boasting an antique brass and iron double bed setting the scene and an en-suite tiled wet-room with power shower, basin and lavatory.
Outside there is a sheltered private slate patio with garden furniture and a surf board store bordered by attractive granite walls and tropical plants.
The garden is terraced with colourfull tropical plants complimented by the wonderful scenery of Vellandreath Valley with all its flora, fauna and spectacular panoramic views.
An Area of Outstanding Natural Beauty, Vellandreath has No Vehicular Access = No cars = No Traffic = Peace & Quiet.
Sandpipers is only accessible by foot down the sandy beach path from our private car park off Sunny Corner Lane, a distance of 250 metres. We advise that this property is not suitable for the infirm or those with restricted mobility. Due to the uneven ground of the sand dunes it is advisable to wear sensible shoes. If you are arriving after dark please take a torch. A luggage service is available at check-in and departure times.
Sleeps 2 people
Great for kids
Only 250 metres from the Beach of Whitesands Bay, Sennen – with Superb views
Situated in a privately owned 8 acre valley designated as an "Area of outstanding natural beauty"
First floor balcony overlooking Vellandreath and Whitesands Bay with wonderful sea views.
Terraced garden & sheltered patio with surfboard store
With prior arrangement an additional child under 2 years old is welcome with no extra charge.
High chair & Travel Cot available upon request – please bring your own cot linen etc.
Bed linen and towels included
Underfloor heating on the ground floor assuring a warm & cosy stay whatever the weather (cost included)
En-suite Wet Room with shower
Electricity included
Freesat TV & DVD
Internet access / WiFi available
Books & games
Oven, Hob, Microwave, Fridge / Freezer, Washing-machine/dryer, toaster, kettle, etc
Private car park 200 metres away
Luggage can be transported up and down the valley by tractor – small charge payable to driver
Our Caretaker will be available to greet you during designated arrival times
Wet suit and surf board for hire locally
Pets are welcome (max. 2) but notice must be given in advance (a small charge may be required)
Unsuitable for the infirm or those with restricted mobility
Friday to Friday Changeover
Short breaks are based on Friday – Monday changeovers (3 nights) and Monday – Friday changeovers (4 nights) unless otherwise arranged
Dogs are permitted on the sand dunes, neighbouring Gwenver beach, and Whitesand's Bay (restricted access during the day in summer at Whitesands Bay).