The Studio - sleeps 2
Holiday cottage in Cornwall that sleeps 2 people in 1 bedroom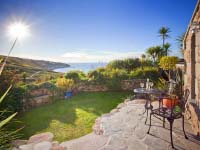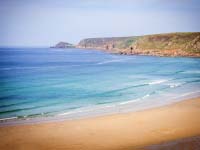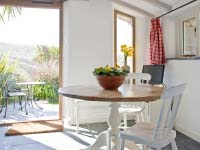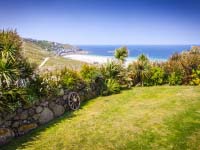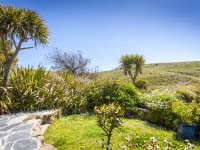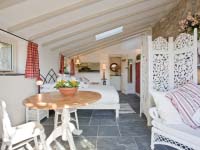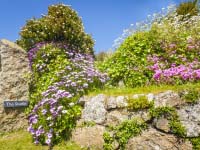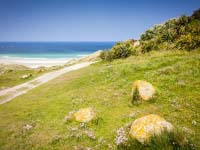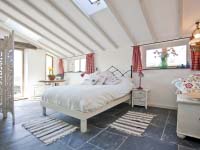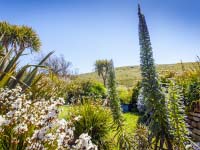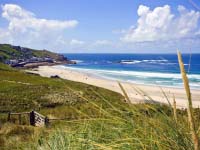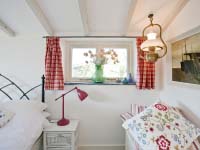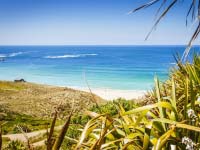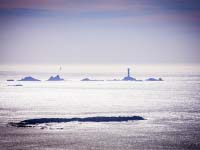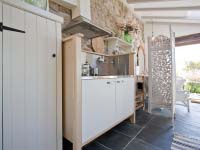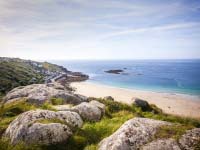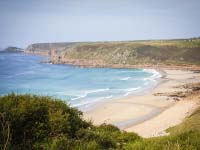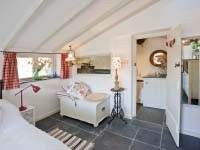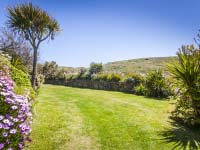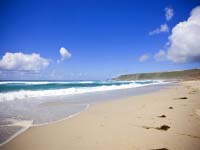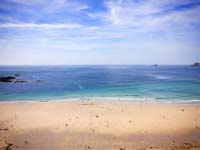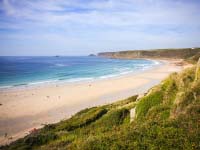 Check availability
& book now
"A little piece of heaven . . ." That's how the local postman has described Vellandreath, a lovely and hidden corner of West Penwith in Far West Cornwall overlooking the wide sweep of Whitesands Bay, Sennen.
Well-appointed in an Area of Outstanding Natural Beauty – a haven for botanists, wildlife enthusiasts, beachcombers, climbers, ramblers and watermen – this delightful holiday cottage in Cornwall by the sea is set in the privately owned, unspoilt 8-acre Vellandreath Valley in Sennen, by the beach, bordered by a stream and sand dunes offering spectacular panoramic sea views all year round.
Converted with flair and imagination this quiet and magical setting is only accessible on foot down the sandy beach path from Sunny Corner Lane, Sennen, Cornwall.
Enjoying superb sea and bay views, and even distant glimpses of the Isles of Scilly from the patio and living area, The Studio is a perfect place to unwind and explore South West Cornwall.
What our guests say...
We had a lovely stay at the Studio. Upon arriving we met Paul who was very helpful with our luggage. The studio was larger than the pictures had led me to believe…. The small garden was lovely for eating out when the weather was nice, as well as being a good space for our dog to wander in between walks...
Jacob
Highly reccomend the studio. Its a beautiful little place to stay with the most breath-taking sunsets. The weather was very unkind to us. But.... when the sun did come out the wander down to the beach was amazing (if not a little strenuous) same as the walk down to the studio...
VALERIE AND EMMA
Such a magic place, our own slice of paradise. Cant wait to come back
Jane Knight
We spent a wonderfully relaxed weekend in The Studio: the location was beautiful and the cottage, very pretty - would thoroughly recommend to anyone looking for a laid back getaway!
Jo
Fourth stay and it still doesn't disappoint. First time at The Studio and it was excellent. Great setting and a lovely secluded garden. The cottage itself had everything we needed and was spotless when we arrived...
The Taylor's
We and our cockerpoo Oscar recently stayed at the Studio, near the most gorgeous beach, for a few days break after the many lockdowns and what a treat we had. The Studio was delightful, extremely well equipped, in the most peaceful setting, just birdsong and rolling wave noise...
Eileen and Roy (David) Clarke
Absolutely stunning location. The studio had everything we needed and was perfect for our stay. Brian was so helpful a credit to your company. A big thank you and we will be back.
Naomi Finlay
We stayed for 3 days during our honeymoon. We were greeted by Brian who kindly took our luggage to the studio. When was arrived we were blown away by the view from the private garden. Inside was so beautiful also...
Lee Thompson
What a gorgeous place to stay! We absolutely loved it- the location is superb and just a very short walk to the beach. The Studio was spotless- which during these times made us feel reassured. We will be back as soon as we can be!
Caroline
We absolutely loved our weekend at The Studio. What a lovely space! Loved the interior. The cottages are so peaceful- falling asleep to the sound of the sea was the best. The garden is wonderful and a real suntrap! We surfed every day, visited the local pub and did some great walks with the dog...
Sophie Evans
Everything was perfect. From the extraordinary lovely furnished studio to the help whenever we needed something. The view from the garden ...we could not get enough of it. Also the location is just great...
Susanne
Had a wonderful holiday in Vellandreath. It truly was a little piece of heaven. The studio was very comfortable & met all our needs. A great location for visiting this beautiful area. However you do not need to drive at all as great for walking and an open top bus takes you to St Ives, easier than trying to park there!!...
Hilary
We had a short 4 night stay at the studio at the end of June. We were met by Brian who was so welcoming. The studio is small but had everything we needed and so quiet and comfortable and is in a glorious location...
Bri
Idyllic location. Superbly furnished cottage and also excellent support from caretaker Brian. Cant wait to come back for next holiday.
Peter Barrett
This was a very last minute booking but what a treat. The Studo was beautifully warm and tastefully cosy and well equipped with a wonderful view over Sennen beach. What better than to be able to listen to the waves crashing on the rocks at night and be able to wake up in the morning and wander down to the vast sandy bay with dog, without a car in sight and walk to the dog friendly pub! This is a magical part of the SW with access to the best sandy beach in Cornwall...
Jo and Andrew
This was our first time in the Studio, the rest of the family (6 adults ) occupied Tresillian, but we thought we would have our own space . The Studio is beautifully furnished and a delight to stay in...
The Tyers family
This is the 4th time we have stayed in the Velandreath Cottages, the 2nd at the Studio. We enjoy it so much we have booked again. The position is perfect and the facilities meet our requirements perfectly.
PJ &MA
We loved The Studio ,which, whilst compact, had everything a couple would need for a beach based holiday. It was beautifully decorated obviously by someone with very good taste and expertise in interior design...
Jan Westwood
my teenage daughter , myself and two mini dachshunds had a wonderful weekend . absolutely beautiful views , stunning beach and very well thought out and attractive accommodation. I will be back. Thank you.
jane chantrill-burns
We had a lovely stay at the Studio.We have been to Sennen many times over the last 30 years s it is Englands most beautiful beach, so it was a treat to discover your cottages and get to stay within earshot of the sea...
Marc
My English is not so good behause I'm from Germany. But I can say we enjoyed our Holidays in this beautiful studio with amazing views to the beach and to the see. Perhaps we come back nett year ;-))
Veronika Wichmann
Excellent really enjoyed our stay at The Studio...very clean..lovely views..small and cosy. Would stay there again...lovely being able to take our dog....
Frances
Fantastic place, looked after by a wonderful crew of people. Thank you. Would love to come back as soon as possible!
JJ Clews
Once again a lovely stay, chilled and laid back is still the order for the day. The studio is equal to all the others at Vellandreath that we've stayed at. Will again be back in the autumn for I'm sure what will be another relaxing break...
Andy, Gill, Alf & Millie
Recently spent 4 days in 'The Studio'. The accommodation was just right, more than covering the essentials for a comfortable and relaxing stay. With a world class beach just 3-5 minute walk away (depending on how fast you can go) and an ever changing mesmerizing view from the patio I would highly recommend.
Marcus
Send to a friend
Property details
This cosy granite built, open-plan studio accommodation is enhanced with underfloor heating and has superb sea and bay views.
The property makes the most of the unique south-facing position with skylights in the roof and large, double glazed oak-framed, folding patio doors.
Beyond the patio is a pretty, private enclosed garden with barbecue area overlooking the sea.
Living/dining room and kitchen area with large patio doors and slate floor, open plan with double bedroom area with antique style iron bed and carved fretwood screen.
Wet room/utility with Belfast sink and toilet.
200 metres from the beach
An Area of Outstanding Natural Beauty, Vellandreath has No Vehicular Access = No cars = No Traffic = Peace & Quiet.
The Studio is only accessible by foot down the sandy beach path from our private car park off Sunny Corner Lane, a distance of 250 metres. We advise that this property is not suitable for the infirm or those with restricted mobility. Due to the uneven ground of the sand dunes it is advisable to wear sensible shoes. If you are arriving after dark please take a torch. A luggage service is available at check-in and departure times.
Sleeps up to 2 people
Bed linen and towels included
Underfloor Heating (cost included)
Electric Night Storage Heaters (cost included)
Freesat TV
DVD
Wi-fi
Combination microwave/oven/grill & two-ring hob
Washer/dryer
Garden with patio and furniture
BBQ
Private car park 250 metres
Luggage can be transported up and down the valley by tractor – small charge payable to driver
Wet suit and surf board for hire locally
Unsuitable for the infirm and those with restricted mobility

No children except babes in arms
Friday to Friday Changeover
Dogs are permitted on the sand dunes, neighbouring Gwenver beach, and Whitesand's Bay (restricted access during the day in summer at Whitesands Bay)