White Rose - sleeps 5
Holiday cottage in Cornwall that sleeps 5 people over 3 bedrooms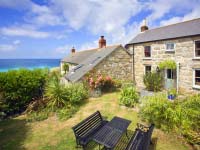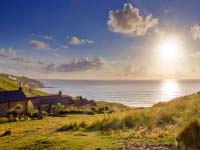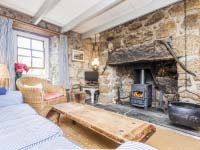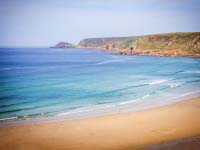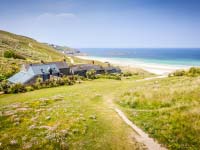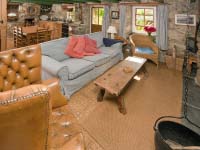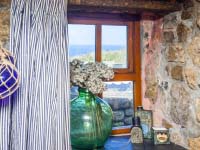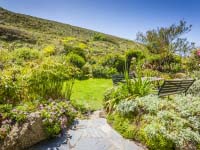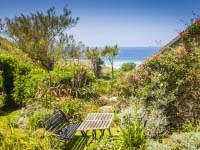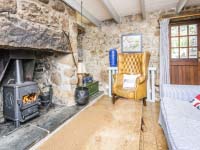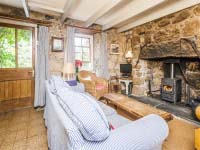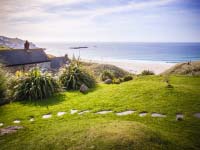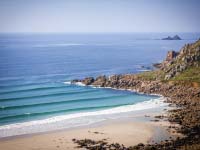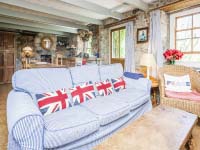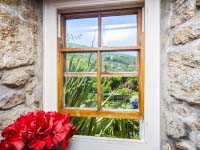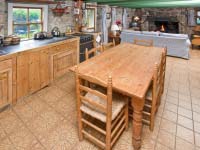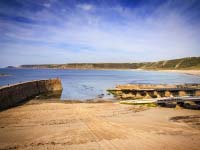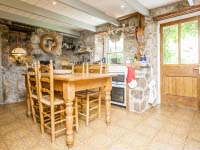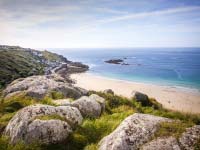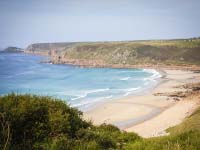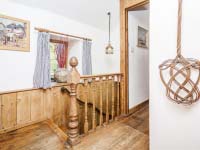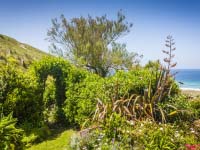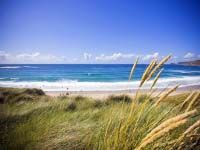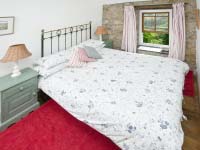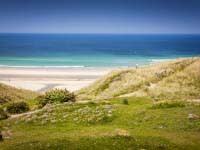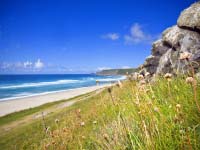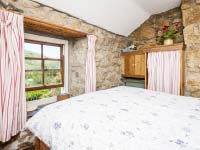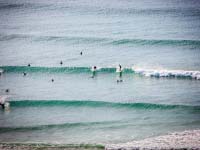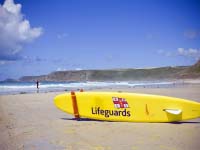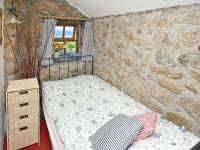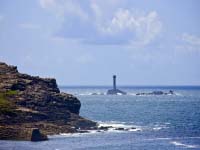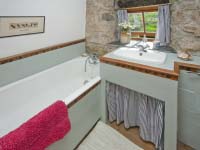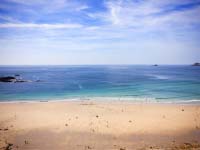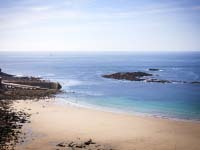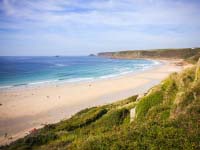 Check availability
& book now
"A little piece of heaven . . ." That's how the local postman has described Vellandreath, a lovely and hidden corner of West Penwith in Far West Cornwall overlooking the wide sweep of Whitesands Bay, Sennen.
Well-appointed in an Area of Outstanding Natural Beauty – a haven for botanists, wildlife enthusiasts, beachcombers, climbers, ramblers and watermen – this delightful holiday cottage in Cornwall by the sea is set in the privately owned, unspoilt 8-acre Vellandreath Valley in Sennen, by the beach, bordered by a stream and sand dunes offering spectacular panoramic sea views all year round.
Converted with flair and imagination this quiet and magical setting is only accessible on foot down the sandy beach path from Sunny Corner Lane, Sennen, Cornwall.
This cosy cornish cottage is perfect for families and boasts a south-facing garden with sea views. In a secluded setting next to a stream and behind Cornish palms and roses, this traditional granite-built cottage faces south and is just 200 metres from the beach.
What our guests say...
What a fantastic location and a beautifully authentic cottage. We had a superb week, in the sea every day due to the heatwave. Sennen Cove is our new favourite haven in Cornwall. Highly recommended. A big thank you must go to Brian who helped out when my son's car wouldn't start, he is a star!
Simon Pratt
Great location and very dog-friendly as no cars. Best beaches in the world on your doorstep. Luggage transfer was a breeze.
Richard Dell
White Rose is more than just a cosy cottage on the beach it's total heaven From the moment you walk through the door you feel at home. We were there October so cosy and warm .Fantastic well equipped kitchen Bedrooms are tastefully decorated and lovely attention to detail You open the back door to a beautiful garden with a stream running through From the cottage it's short walk to the beach our dogs were in heaven We will be booking for next year but a week this time 3 days just wasn't enough Thank you for a wonderful holiday
Yvonne Porter
Fabulous location - lovely little cottage and garden. Organisation great.
ANNE
Wonderful location with stunning views and a real sense of tranquility. A lovely cottage, very cosy with a lovely garden. Family friendly set up.
Chris
This is our third stay at Vellandreath and is still as magical as the first time we came back in 2004. We will be back for a fourth time! Perfect get away from reality!
Rachel
Fantastic location. Wonderful few days recovering from Xmas. Cottage immaculately clean and tidy on arrival. Dogs were in their element but totally worn out from all their running around on the empty beach...
Chris Walker
Staying in White Rose with friends was very special for all of us. As we came down from the car, our hearts leapt up on seeing the cottages nestled in the valley and that view beyond. We loved being that close to the sea and in such a peaceful location...
Julie Davis
many thanks for once again a lovely stay in one of the nicest places on earth in these cosy cottages
steve and joanne hurrell
Wonderful, magical Vellandreath and Sennen Cove. All our woes melt away the minute we arrive. There is only one downside - leaving! We count the days until we can return.
Claire
Loved White Rose cottage staying in a traditional style Cornish cottage but being so close to the sea backing onto the sand dunes was lovely. The fact that you could walk the dogs straight from the front door no road was a definite plus for us...
Cheryl From Guildford
Excellent short holiday. Amazing setting, so close to the beach. Cottage was really comfortable and cosy. Kitchen well equipped, and lovely bedroom (only used one) and bathroom too. Woodburner was wonderful...
Penny
If you want a true Cornish experience, then this is it
Nigel
We had a fantastic week staying at White Rose cottage. The location was just idyllic and it was wonderful to fall asleep and wake up to the sound of the sea.
R Birkett
Yet again, another fabulous week in Sennen Cove."A little piece of Heaven" describes it perfectly. It is very rare that somewhere you book without seeing lives up to and exceeds the photographs and expectations...
Jo and Nick
Send to a friend
Property details
Light, open-plan, beamed living room with wood-burning stove in a granite inglenook.
Kitchen/dining area with half glazed door to pretty garden with sea view.
Open-plan stairs to first floor landing
Two double bedrooms with ornate antique beds and views over the garden and sand dunes.
Small single bedroom with sea view.
Bathroom with shower attachment and toilet.
All rooms are attractively decorated with rugs on pine floors.
An Area of Outstanding Natural Beauty, Vellandreath has No Vehicular Access = No cars = No Traffic = Peace & Quiet.
Whiterose is only accessible by foot down the sandy beach path from our private car park off Sunny Corner Lane, a distance of 250 metres. We advise that this property is not suitable for the infirm or those with restricted mobility. Due to the uneven ground of the sand dunes it is advisable to wear sensible shoes. If you are arriving after dark please take a torch. A luggage service is available at check-in and departure times.
Sleeps up to 5 people
Great for kids
Bed linen and towels included
Travel cot and high chair by arrangement
Wood-burning Stove set in inglenook fireplace – initial fuel included (additional fuel supplied and delivered at cost)
Electric Night Storage Heaters (cost included)
Wi-Fi internet access
Freesat TV
DVD
Microwave
Washer/dryer
Dishwasher
Garden with patio and furniture
BBQ
Private car park 150–200 yds
Luggage can be transported up and down the valley by tractor – small charge payable to driver
Wet suit and surf board for hire locally
Pets are welcome but notice must be given in advance (a small charge / deposit may be required for more than one pet)
Unsuitable for the infirm and those with restricted mobility
Saturday to Saturday Changeover
Dogs are permitted on the sand dunes, neighbouring Gwenver beach, and Whitesand's Bay (restricted access during the day in summer at Whitesands Bay)