Sennen Beach
The far South West is warmed by southwesterly breezes from the Azores and is one of the most unpolluted areas in Britain. The coastline is full of beaches, ranging from safe bathing beaches to secluded coves to wild and rocky places. Some are easily accessible and some less so. The sea is crystal clear, jade green, and a comfortable swimming temperature into late autumn.
Sennen Beach is one of the best in the UK. Its amazing water quality and golden sand makes it picture perfect. The sandy beaches and crystal clear waters of Whitesand Bay lie a short amble from the cottages, providing a place for energetic activities such as surfing and kayaking, or lazy days reading a book under a parasol.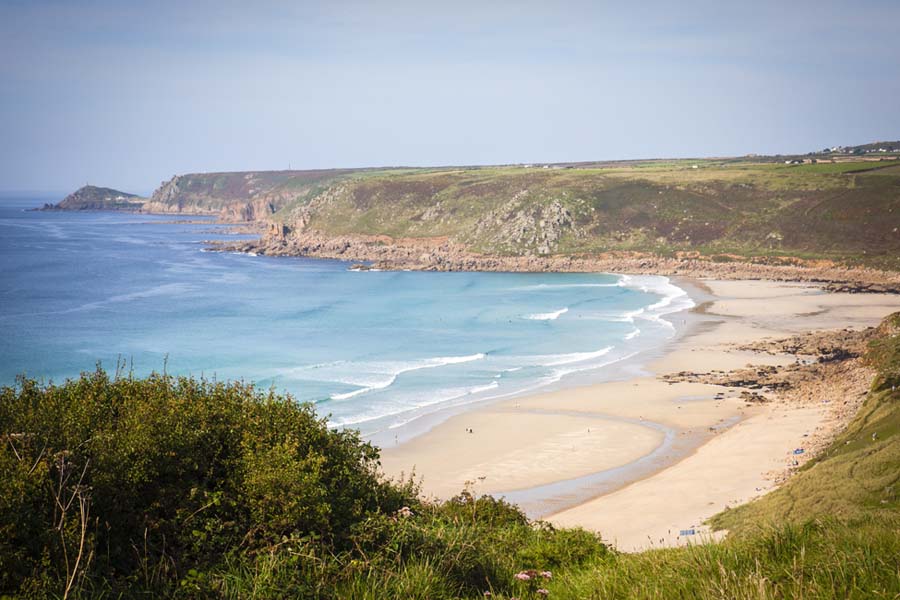 It's perfect for wedding and honeymoon accommodation and couples who can head straight out from their Holiday Cottage onto Sennen Beach and take a romantic stroll before enjoying a sundowner drink in the local pub or a meal overlooking the sea.
At low tide Sennen Beach joins Gwenver Beach, which is dog-friendly all year round. During the summer dogs are only permitted on Sennen Beach before 10am and after 6pm.
The sandy beach and rock pools are ideal for families. The sheltered end of the bay offers great swimming between the lifeguard's red and yellow bathing flags. See our rock pooling guide for what equipment you'll need, when to go and what to look for in the rockpools of Sennen and Gwenver Beach.
Sennen is a mecca for surfers with high-quality waves peeling all the way up the beach from Sennen Cove to Gwenver. Surfing holidays in Sennen are popular for surfers, bodyboarders, longboarders, knee boarders, kayakers and paddle boarders. There are local surf schools that offer coaching to beginners (both adults and children).